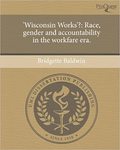 Title
'Wisconsin Works'?: Race, Gender and Accountability in the Workfare Era
Description
This project will offer an evaluative analysis of the Wisconsin Works (W-2) program as the model initiative within national welfare reform strategies. The purpose of W-2 was to present welfare mothers with alternatives to dependency. The mothers of this study offer insights from their perspectives and experiences that take this claim, by W-2, to task. In the discussion that follows I will explore a series of issues. How do these mothers evaluate the transition from welfare to the W-2 Program? What does the central goal of self-sufficiency mean to them? What does welfare reform in general mean? And, finally, is anyone listening?

My research question is what happens when we place the actual voices of black mothers living through the transition from welfare to work in the model state of Wisconsin at the center of analysis and interrogate how these experiences might challenge a statistical assessment of Wisconsin's reported success. Most mothers in this study voice concerns about the inability of W-2 to directly address their specific needs or take into account their specific conditions. In order to both contextualize and fully develop this theory I have (1) analyzed the racial and gendered discourse surrounding the development and implementation of the Wisconsin Works Program and (2) examined specifically how welfare to work laws/policies affected the lives of black mothers in Milwaukee since Wisconsin's transition from AFDC to W-2 in 1997. What have emerged from these evaluations are three dominant clusters provided below which best describe how mothers receiving W-2 benefits evaluate the program. These evaluations can be grouped under three general terms: Paternalistic Essentialism, Work First Principle, and Privatization.

Embedded within these clusters are many sub-themes that have also been explored. These three concepts in no way fully encapsulate the range of experiences encountered by W-2 participants. Yet, they still give us a powerful understanding about the overarching negotiations taking place between citizen actors, state policy, and market power within the world of W-2.
Publisher
Proquest, Umi Dissertation Publishing
Keywords
Wisconsin Works, welfare reform, Black, African Americans, mother, public policy, social welfare, gender, race
Disciplines
Law and Race | Law and Society
Recommended Citation
BRIDGETTE BALDWIN,'WISCONSIN WORKS'?: RACE, GENDER AND ACCOUNTABILITY IN THE WORKFARE ERA (Proquest, UMI Dissertation Publishing, 2011).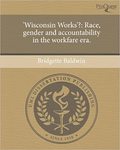 COinS