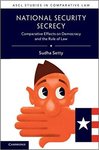 Title
National Security Secrecy: Comparative Effects on Democracy and the Rule of Law
Description
Excessive government secrecy in the name of counterterrorism has a corrosive effect on democracy and the rule of law. The controversial national security programs of the United States' Bush and Obama administrations include areas of targeted killings, torture, extraordinary rendition, and surveillance. Explanations to justify the administrations' actions through interpretation of the governing law is lacking. The resultant excessive secrecy often keeps the public in the dark and prevents discovery of those actions, congressional oversight, and questioning of legality by the courts.
Similar patterns arise in other democracies around the world. In National Security Secrecy, Sudha Setty takes a critical and comparative look at these problems and demonstrates how government transparency, privacy, and accountability should provide the basis for reform.
Publisher
Cambridge University Press
Keywords
secrecy, counterterrorism, national security, democracy, rule of law, privacy
Disciplines
Comparative and Foreign Law | Constitutional Law | National Security Law
Recommended Citation
SUDHA SETTY, NATIONAL SECURITY SECRECY: COMPARATIVE EFFECTS ON DEMOCRACY AND THE RULE OF LAW (Cambridge University Press 2017).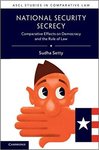 COinS