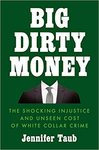 Title
Big Dirty Money: The Shocking Injustice and Unseen Cost of White Collar Crime
Description
The Author details ways ordinary Americans are victims and suffer when the wealthy and privileged use white collar crime to gain and sustain wealth, social status, and political influence. These white collar crimes include tax fraud, mail, wire, or bank fraud, embezzlement of pension funds, lying under oath, obstruction of justice, bribery of public officials, and money laundering. When caught, these perpetrators either get off scot-free or are incarcerated briefly in minimum security prisons. Taub tracks how a post-Enron failure of prosecutorial muscle, the growth of "too big to jail" syndrome, and a developing implicit immunity of the upper class led to this injustice and poses solutions that can help catch and convict offenders.
Keywords
white collar crimes, United States, commercial crimes
Disciplines
Commercial Law | Consumer Protection Law | Criminal Law
Recommended Citation
JENNIFER TAUB, BIG DIRTY MONEY: THE SHOCKING INJUSTICE AND UNSEEN COST OF WHITE COLLAR CRIME (2020).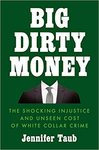 COinS